While delivering as-needed point solutions tailored to the specific requirements of our clients, UniSol generally takes a holistic approach to delivery of Identity & Access Management Professional Services, starting with Business and Strategy, to IAM Vision & Roadmap, to Solution Delivery.
Our services cover the entire Identity Management lifecycle.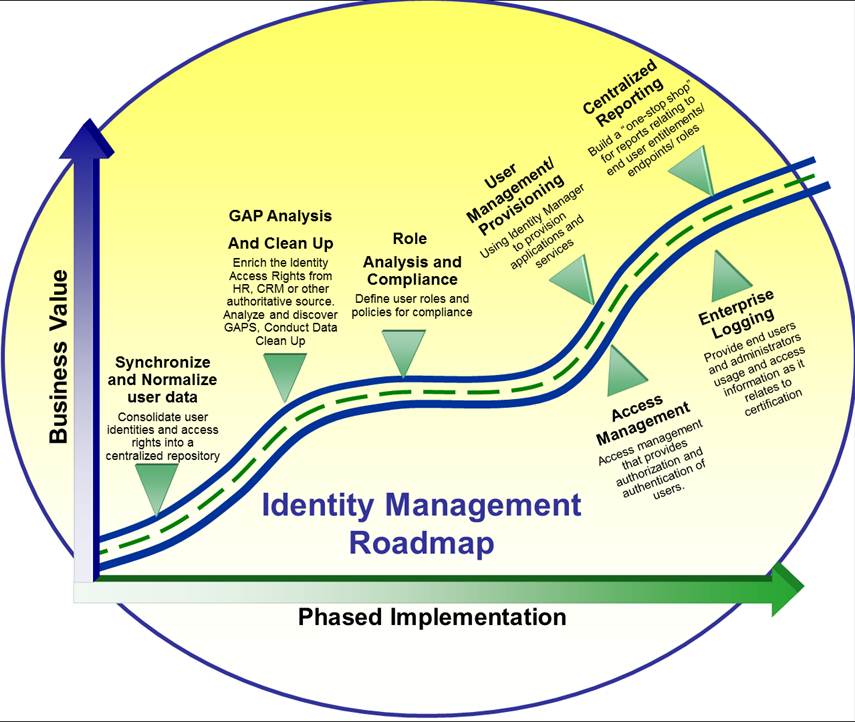 Whether you are planning an Identity Management initiative, have completed 'phase one,' or need to make a midcourse correction, it is often important to "begin at the beginning," even if you need to take a step back.
And that is to align or re-align your Identity Management program with your business needs, goals and objectives, be they compliance, data protection, improved productivity, or simply good security.
An initial strategy and planning phase "at the beginning" is often critical to success. While your Identity Management business process is ultimately enabled through a number of technologies, technologies are not the place to start. Technology solutions, like single sign-on and user provisioning, should be implemented in a phased program plan that meets your specific business objectives.
On the other hand, if you have an urgent 'point' requirement, like protecting access to an employee Web portal for example, then a strong authentication 'point' solution may need to be implemented quickly. But this should be an open, scalable and extendable platform that is capable of supporting not only current but also future requirements, and that seamlessly integrates into your security infrastructure.
UniSol uses a proven methodology with a phased implementation of solution elements to maximize project success and minimize risk.
UniSol is specialized in the following products


CA Security suite (IDM, Siteminder, GovernanceMinder, LDAP)


SunOne Identity Suite


ForgeRock: Open IAM Suite (OpenDJ, OpenAM, OpenIDM)


Oracle SOA & EBS Suite


Portals: Weblogic, Sun, Liferay

We provide high quality and cost effective consulting and contract services of highly-skilled IT professionals such as Architects, Developers, Database Administrators, Network Engineers, Business Analysts, Quality Analyst and more to our cutomers. We offer Information technology services with Professionalism, Honesty, Integrity and Sincerity. Our commitment to Quality and Service is matched equally by our desire to be the very best. Unisol LLC has a full suite of end-to-end IT Services to help our Customers meet their goals.
We can support your Information Management requirements for any or all the phases or a project life cycle or can take complete responsibility for a total systems solution. Projects can be onsite, offshore or a combination of both in a way our Customer wants. At Unisol LLC, we measure our success by yours. Our approach to partnering and collaborating closely with our clients delivers seamless and innovative solutions to every business challenge.
Outsourcing is available across the entire spectrum of platforms, languages and technologies. We invite you to share your Information Technology challenges and needs. We'll share our experience and skills, to jointly develop the most optimal business solution.